Internationally renowned film auteur Takeshi Kitano has been applauded for his challenging portrayals of manhood and men, most notably rogue figures (Hana-bi, Zatoichi). Discerning fans of his cinematic oeuvre, however, have also appreciated the lyrical sensibility that infuses even his most violent works. In Boy, Kitano's essential vision is filtered through crystalline prose and the prism of childhood; the result is a gem of memory and nostalgia.
While his impressive cinematic output has been compared to, and introduced to the American public by, Quentin Tarantino and the like, Kitano's equally delightful gift for pure word-craft has been a better-kept secret of his native Japan. This first American translation of his literary fiction illustrates the notion of "boyhood" that has underlain all his work—as well as that of many a creator valuing generous and bold invention.
The three stand-alone tales take place at early, middle and late adolescence. In "The Champion in a Padded Kimono," two brothers—one a bookworm and the other a jock—learn a lesson or two about hope and desire on Sports Day. "Nest of Stars" features a different pair of brothers for whom stargazing becomes a poignant way of life. In "Okamesan," a very young history buff goes on his first solo "field mission" to Kyoto where he runs into a girl from the wrong side of the tracks. Tender and funny, Boy is a perfect introduction to Kitano's world and a must-read for fans of the artist.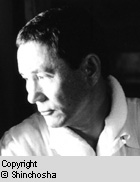 Takeshi Kitano is the recipient of the Golden and Silver Lion Prizes, Venice Film Festival, for Hana-bi and Zatoichi. He is also the author of many prose works ranging from memoirs and fiction to social criticism and interview collections. Before he achieved worldwide fame he was one of Japan's most popular television personalities, which he continues to be, thanks to his sharp eye and irreverent sense of humor. Boy is the first literary work by Japan's "Renaissance man" to be translated into English. Mr. Kitano lives and works in Tokyo.