"Manager Takino" is just trying to live a quiet life running a suburban supermarket when an old yakuza mate convinces him to help two lovers on the run from the mob escape the country. On his tail is Detective Takagi, a smooth noir fixture with a French cigarette always dangling from his mouth. The beast within Takino will chafe against the cage of domesticity in which he's locked himself, and once he busts out there'll be no going back.
From the award-winning author of Ashes and Winter Sleep comes another hardboiled page-turner. Kenzo Kitakata's The Cage is one of very few genre titles to have been chosen by the Japanese Literature Publishing Project—an Agency of Cultural Affairs of Japan program that underwrites the translation and publication of contemporary fiction of social and artistic importance.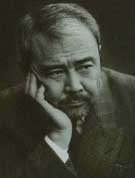 Kenzo Kitakata is the recipient of countless awards for his signature brand of hardboiled yakuza fiction, including the Japan Adventure Writing Association Award (1982), the Yoshikawa Eiji Award for Fiction (1983), the Japan Mystery Writers Association Award (1983, for The Cage), the Bungei Award (1985) and the Shiba Ryotaro Award (2005). A perennial bestseller, Kitakata is also a frequent commentator and panel judge for fiction awards.