After losing his job and his girlfriend, Kazuo is desperate to look for a new beginning. While bumming around, he is handed a pamphlet announcing the arrival of a Guru. Despite being convinced the faith healer is a con, he decides to attend the event and is surprised to find himself a quick convert after witnessing one of the Guru's "miracles."
As a new member of this religious sect, he soon discovers his intuition was correct, it was all a scam. After begging to join the cult, Kazuo quickly moves up the ladder from pamphlet distributor to pathetic cripple in the Guru's public performances. And before he knows it, the young man may have found his calling as he ascends to the cult's leader.
"Beat" Takeshi Kitano is one of the most widely recognized Japanese filmmakers to date, and can be largely credited for the popularity of yakuza (Japanese gangster) fiction and film. In A Guru is Born, Beat returns to his comedic origins as, through this dark comedy, he focuses his attention on the economic power of religious organizations.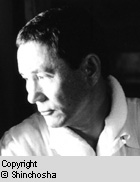 Takeshi Kitano is the recipient of the Golden and Silver Lion Prizes, Venice Film Festival, for Hana-bi and Zatoichi. He is also the author of many prose works ranging from memoirs and fiction to social criticism and interview collections. Before he achieved worldwide fame he was one of Japan's most popular television personalities, which he continues to be, thanks to his sharp eye and irreverent sense of humor. Mr. Kitano lives and works in Tokyo.