Enter a world of nihilism and self-destruction. Enter a world of rape, incest, and trauma. Enter a world of violence, drugs, and prostitution. Enter an innocent world.
Ami believes in nothing, hopes for nothing, and turns tricks because it's something to do. Her journey from the pit of despair to the precarious edge of something else captures the part of being seventeen that never makes it into words.
A razor-sharp novella whose sheer intensity elevates misanthropy to the level of art, Innocent World is the author's first work to appear in English.
Higashino explains the premise of Naoko and the idea behind the main character: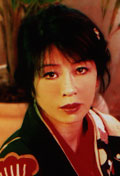 Ami Sakurai made her name in Japan as a controversial journalist and columnist, exploring the Tokyo underworld of enjo kosai (compensation dating). Innocent World came out to an equally bemused and disgusted public, but has garnered for Sakurai a large following of young women who feel like finally, there is a voice for them. Sakurai is a writer for the Heidi Fleiss, Paris Hilton, Tracy Quan, Annabelle Chong generation of women—challenging our contemporary notions of female sexuality.