No literal description of Sayonara, Gangsters' plot could ever hope to do it justice. The narrator is a poetry teacher named "Sayonara, Gangsters"—he's named after a gang that's been knocking off U.S. Presidents one after another in the novel's facetious near-future. Unfolding through short sketches that often read like poetry or philosophical meditations, Sayonara, Gangsters is a hilarious and inventive postmodernist novel about language, expression, and the creative process from Haruki Murakami's way-more-out-there literary cousin.

Genichiro Takahashi, b. 1951, never graduated from Yokohama National University. As a student radical, he was arrested and spent half a year in prison, a harrowing experience that rendered him incapable of reading or writing for several years. Sayonara, Gangsters took the literary establishment by storm and remains at the summits of postmodern writing in Japanese or any other language. Other novels by Takahashi include John Lennon vs. The Martians, A*D*U*L*T, and The Rise and Fall of Japanese Literature. Also a literary critic, he is the author of The Maybe-It's-Not-Literature Syndrome and other popular collections. Winner of the Mishima and other coveted literary awards, Takahashi has been the best-kept secret of readers of Japanese… until now. Sayonara, Gangsters is his first full-length work to be published in English.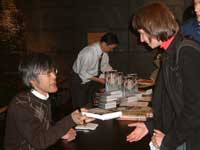 To see Genichiro Takahashi tour photos, click here.